LANCE, SYSCO AND ZACK
Watch as Lance's aggressive moves win him two cocks! He makes his first move on Zack (A Few Good Men) a Marine boy who is hung like a horse, he then works his way over to Sysco (My First Time: Doing It and A Few Good Men) an other Marine. As he goes back and forth between sucking cocks, it is obvious that Lance is HUNGRY for MEAT. After the three shower their lean hard bodies together, in the bedroom, Lance wastes no time in getting Sysco's rock hard cock up his ass and is fucked by Sysco in every which way possible. Zack then takes over and jams his thick meat in Lance who just can't seem to get enough. Sysco and Zack give Lance a cum bath with their hot creamy loads.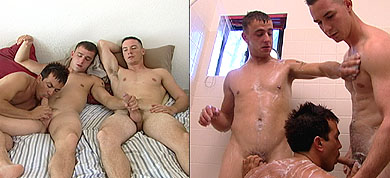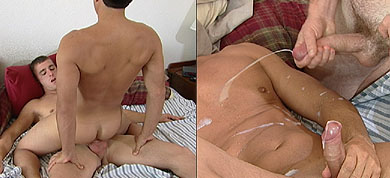 BEAUX AND CAM
Beaux and Cam are two horny Marines that we hooked up for this HOT shoot that are sure to make your cock stiff and wet! Cam has a HUGE cock that is ready for action and Beaux has no problem taking it. Cam works Beaux's ass doggy style in the shower and continues in the bedroom for some more ass plowing. Every imaginable fucking position is tried by the two. Not ONCE does Cams cock ever go soft! Beaux shoots his load all over Cam as he is riding his cock, Cam then returns the favor of shooting his gallon of cum in and around Beaux's mouth and face. Beaux just gulps it down! This sensual, erotic and nasty scene is so HOT it will make you want to jack-off to it!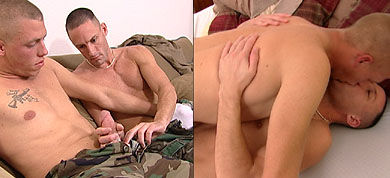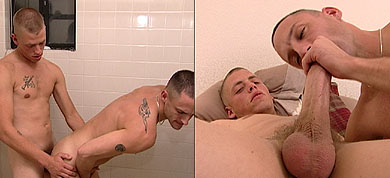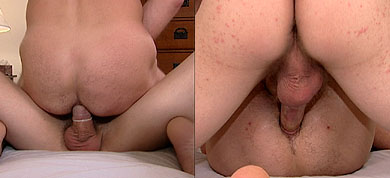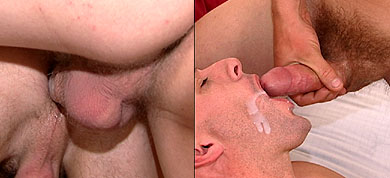 TONY AND SYSCO
In this scene we have hooked up Tony, a Navy boy and Sysco, a Marine, both where featured in "A Few Good Men". Tony is new to messing around with other guys as you will see in the beginning, but they start to warm up in the shower as they each bath, rub and suck each others cocks. Back in the bedroom, more cock sucking, hot tongue action continues as they warm up Sysco's ass to get fucked by Tony. This will be his first time ever for Tony to shove his cock up a guys ass. You'll also see Tony's first guy kiss too! Sysco takes Tony's cock up his ass in ecstasy as he moans and begs for more. Tony doesn't hesitate one bit and plows away. Sysco sprays his load with Tony's cock still inside, then Tony unloads his hot sperm to finish off.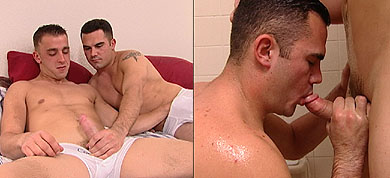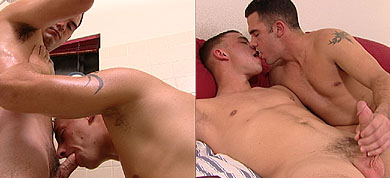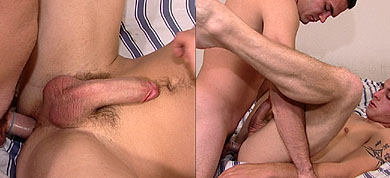 IAN
Ian is a Marine recruit who loves to play with his hole. The scene starts off with the behind the scenes of his photo shoot. In the bedroom his ass is unleashed and so are his fingers that love to play up his ass. As his long fingers penetrate him deep, they eventually bring him to shoot his white and thick load. As if that wasn't enough, he reaches for the cameraman's cock, pulls it out, and begins to jack him off until he cums, catching and rubbing the fresh new goo all over his own cock.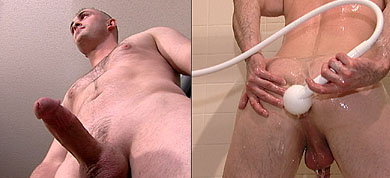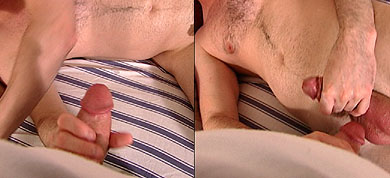 SNEAK PEEK VIDEO COMING SOON TO VIDEO/DVD.
3 Marine Buddies - Adam Buttnick, Cory Sutherland, Ricky Shubes Take a sneak peek at three 19 year old Marines during their photo shoot. Watch the three of them strip down and pose naked together, stroke their cocks and goof off naked. You can catch more of these three hot Marines coming soon to video.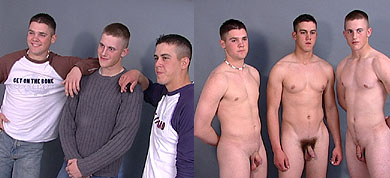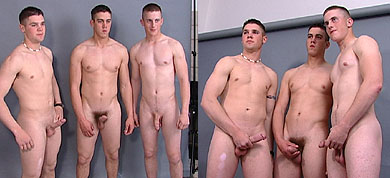 DVD EXCLUSIVE BONUS SNEAK PEEK VIDEO.
Exclusive DVD only preview of Military Man Love 2! Cam is back with his rock hard HUGE rod and finds a new ass to plow. Also new are Mitsuo and Allen Edwards, two Navy Sailors who love it BAREBACK. These two will get you extra hard!.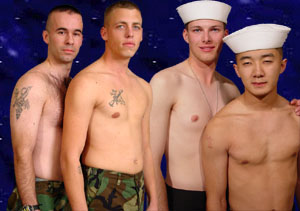 OTHER PREVIEWS
A FEW GOOD MEN
MILITARY RECRUITS
YOUNG MARINE RECRUITS
MY FIRST TIME: DOING IT!