---

DVDRun Time: 113 min
Features: Bareback Sex, Europeans, Story - Plot, Twinks - Young Meat,
Uncut Cocks, Anal Sex, Big Loads, Big Balls, Big Cocks, Blonds,
Chain Fucking, Cum eating, Dildos - Toys, Facial Cumshots, Horsehung,
Kissing, Live Sound, Modeling - Posing, Nipple Play, Oral Sex, Orgy, Outdoor Sex,
Snowballing (Cum Kisses), Solos, Threeways
Starring: Milan Breeze, Mikey Dragon, Dennis Reed , Miles Overton,
Patrik Maxwell, Billy Dexter, Leo Cooper, Peter Kyck,
Skye Jensen, Tommy Sem, Luke Carson, Mike Rodman
DVD $39.95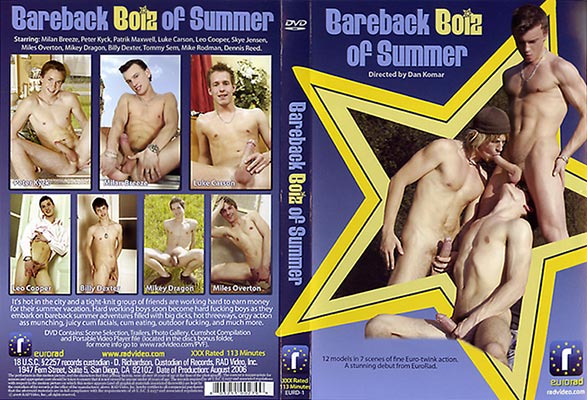 ---
Nominated for three 2008 Golden Dickie Awards.
* Best (Amateur) Twink Movie
* Best (Amateur) Twink Performer - Top: Skye Jensen
* Best (Amateur) Studio Director: Dan Komar
In EuroRad's fabulous new Bareback Boiz of Summer, five hot studboys want to take a summer vacation together, and they only have two weeks to earn enough money to pay for their trip. Through 7 solid scenes, and almost 2 hours, we're invited along to follow them on their hot bareback adventures.
Earning cash by washing car windshields, super cute Milan Breeze is quickly picked up by two young hunks in a red sportscar. The trio drive off for a picnic and sunbathing in a grassy meadow. The sight of one another's sunkissed skin sends their hormones into overdrive. We're treated to an incredibly hot threeway in which the guys can't take their tongues off each other. There's deep kissing and tit sucking galore, followed by delirious daisy-chain cock sucking. Wait till you get an eyeful of the throbbing meat on these guys. We're talking 8 to 10 inch slabs, thick and uncut. They eat each other's dicks with incredible relish. When two guys share a buddy's dick, one jacks the shaft while the other sucks the head, and then they switch off. Just when you think things couldn't get any hotter, the guys start chain fucking. They lie on their sides in the grass, plowing one another simultaneously, each with one hairy leg in the air. With every thrust, we have a fine view of their fat shafts, big balls, and tight asses. The guys fuck like madmen until they're ready to shoot off into each other's mouths. Wait till you see the first cumshot of the film -- it's a masterpiece. When a true cumlover takes a hot load all over his face and into his hungry mouth, it's truly beautiful to behold. You'll see a mega-squirting cock get milked for all its worth, with every single drop tasted and worshipped. By the time the guys have all pumped their loads and eaten each other's cream, they're literally giddy with happiness, and so are we!
Meanwhile, adorable Miles Overton earns cash by painting a wall with a buddy. The guys quickly work up a sweat, and in no time they're working without pants or underwear. And then they're deep kissing and feeling for one another's dicks. Some lovely cocksucking gets things lubed up for intense bareback fucking. Again, the cumshots get aimed right into the mouth and down the throat. Lovers of jizz eating will be in heaven.
Anyone into solos and sex toys will get off on watching a well-dressed young deliveryman fuck himself with a dildo while he jacks off in an elevator. The guy eventually puts the dildo back in its box and delivers it to the handsome young stud who ordered it. The stud opens the box, sniffs the dildo, and says that the toy has been used. "Only one time!" the deliveryman answers, with a devilish smile. The stud pulls him inside his apartment and rips off his clothes. They suck and fuck until they erupt geysers of hot mancream, licking up any missed drops and sharing the flavor with snowballing.
And there's still an entire hour of hot action to go. One street artist lures two hot young men into his studio for some nude posing, and naturally the guys find themselves enjoying a glorious threeway. Lovers of sperm-covered asses and post-orgasmic fucking won't want to miss this scene or the following one. And don't miss the five-guy orgy finale, featuring a full-circle daisy chain, every-which-way butt fucking, and loads of cumeating.
It's a joy to see such enthusiastic sharing of masculine sexuality. The guys here partake of each other's bodies and bodily fluids as if it's an honor and a privilege (not to mention a pleasure). They genuinely love this bareback adventure, every thick inch of the way. Their smiles and giggles only confirm their bona fide love for mansex in general and each other in particular. Add to that a crystal clear picture, erotic live sound, a fun story line, and an exciting soundtrack, and you've got a true winner on your hands.
DVD Extras: Scene Selection, Trailers, Photo Gallery, Cumshot Compilation, Portable Video Player File, Bonus Solo, Playable Worldwide, contact info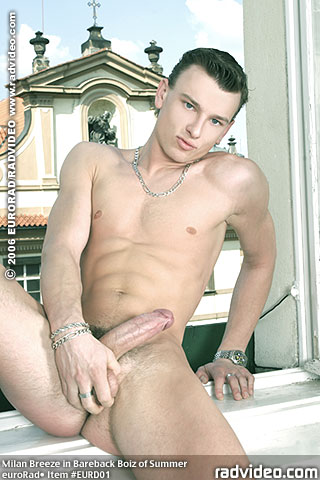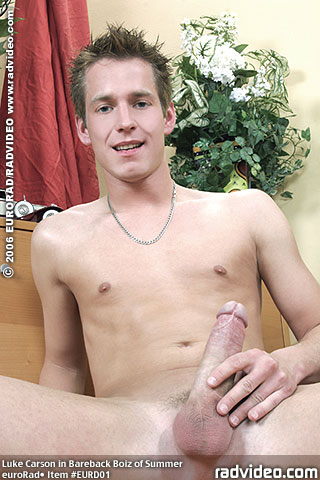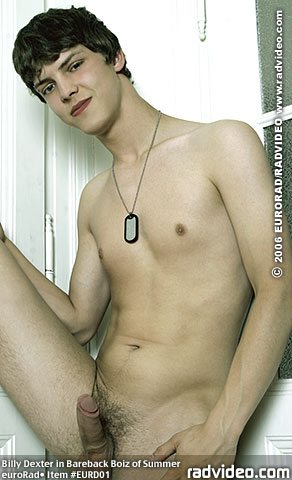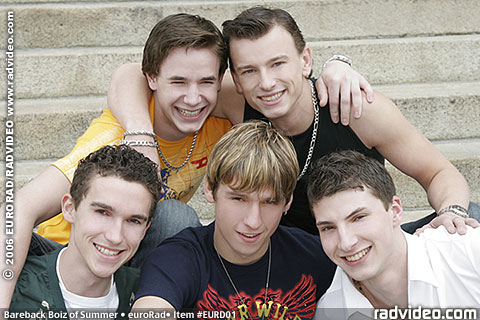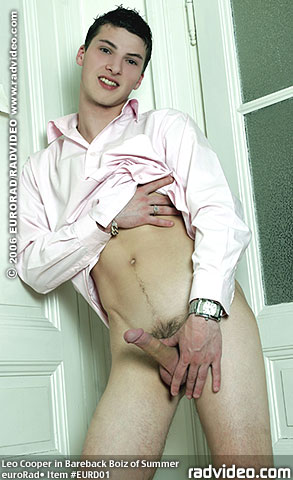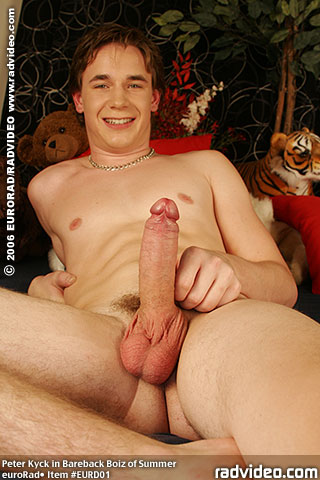 Price
DVD $39.95
BACK