MARCUS and TONY
HARDCORE ACTION - 20 year old College blonde boy Marcus is working out on the campus track when while running meets 22 year old Tony. Tony is also a hot Italian college stud getting in a run after a long stressful day of studies. After flirting back and forth, Marcus finally makes his moves on Tony. He knew he had his chance with him while helping him stretch out. The stretching gets intense on the track that they decide to continue back at Marcus' flat not to far from campus. Things get a bit more hot and intimate, cloths comes off and the real working out begins. After showering off together, Marcus is ready for the Marathon fuck he is about to receive. Tony rams his stiff rod in Marcus's hot and hungry hole. Marcus loves the continuous rounds of fucking, he takes it like just another lap around the track. The plowing from Tony was great, but Marcus wants more cock so he asks the cameraman for help. Of course the cameraman is always ready and willing! Marcus pulls the camerman's throbbing stiff cock out and starts preparing it. The cameraman shoves his thick cock in Marcus and gives him another round of ass fucking. At the same time while being fucked, Marcus creams his load, as cameraman also fills the condom with his jizz. A phot montage ends the scene.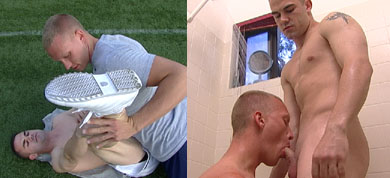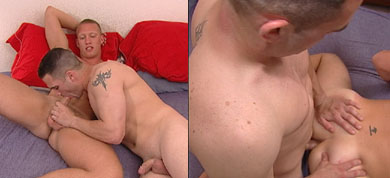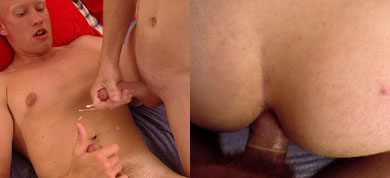 CHAD and JACK
HARDCORE ACTION - 18 year old Chad returns to his Frat House with Jack, a 22 year old college stud he picked-up on campus. After finding out that Chad's Frat brothers are not home, no time is wasted and off come the cloths and into the spa. After kissing, licking and sucking on each others hard cocks, Jack takes all he can get from Chads 18 year old smooth body. They jump into the pool to cool off a bit, laying on a floatie, Chad lays on top of Jack working his nipples and sucking his balls and cock. This is Chad's second experience with another guy and is making it count. They both get back into the spa for some more foreplay were they then begin to fuck doggie style on the side of the spa. Jack's thick cock cries out for Chad's young hole, fucking him hard until cumming. Chad finds the privacy of the pool side bathroom, just the right place to shoot his load. Scene ends with a photo montage.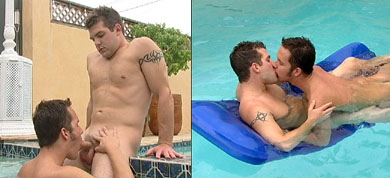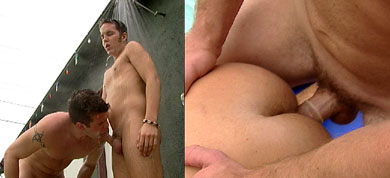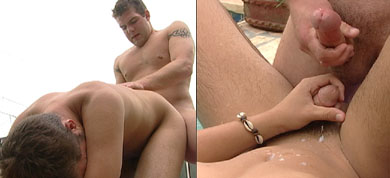 PHIL, ROD and COREY
GROUP SOLO ACTION - Its strip poker time back at the Frat House. Watch three 19 year old Frat Boys stip in a game of strip poker. After drinking a few beers, stripping down and lots of talk about their girlfriends, these three hot boys are horny and hard. Phil then get the crazy idea of comparing each other cocks to see who is bigger, they whip them out and lay them on the table to compare. After comparing dick sizes there is no doubt that Phil wins. As horny as they are, they decide to pop in a porno and rub one off. They lay together on the bed jacking off, one by one they each squirt their loads, then shower together cleaning each other off.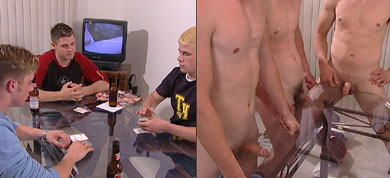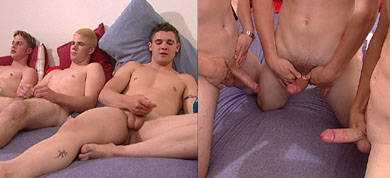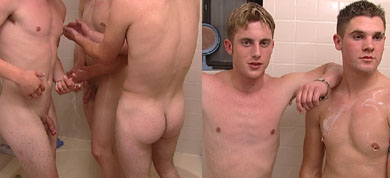 CHAD and TIGER
HARDCORE ACTION - Chad is back again with his usual dirty tricks bringing another classmate back home. He picks up Tiger, a hot young guy with a buzzed military style haircut. Chad is intrigued by his tattoo on his head and cannot wait to find out of any other hidden tattoos. The action heats up on the couch, cloths begin to come off and all hell breaks loose. The action gets intense, they move up to the bedroom. Chad's ass has been ready for Tiger's thick white boy cock since eyeing him on campus. Moaning with pleasure, Chad enjoys every inch of Tiger's thick white meat. The action gets hot and steamy and a crew members jumps in and squirts his load. Tiger unleashes his white thick cum on Chad, then Chad unloads his. Scene ends with a photo montage.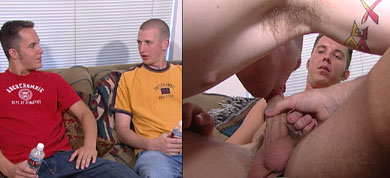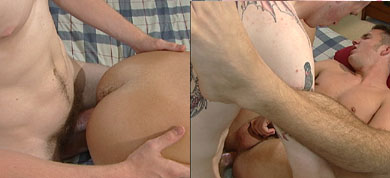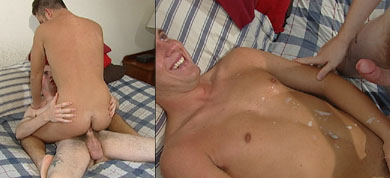 MARCUS and TREY
HARDCORE ACTION - Trey is looking for a trick to play with. He decides to look for a young college stud to "play" with in the local rags. He finds the perfect ad "Hot Young College Student" for hire. Trey invites Marcus into his kitchen for a drink, there they waste no time and start fooling around. Before they even make it to the bedroom, they both drop on the stairs and start to fuck. Marcus is bent in every position just getting his ass plowed. To avoid the rug burns they decide to move into the bedroom. They both flip-flop getting fucked and sucking each others cock. They just can't get enough of each other. The action here is once again so hot that the crew just can't keep there hard dicks inside their pants. Marcus and Trey aggressively pull out the cameraman's cock and take turns sucking it while another crew guy jumps in and starts fucking Trey. This all comes to a big climax as the cum starts to fly from every direction, one after the other they unload! Scene ends with a photo montage.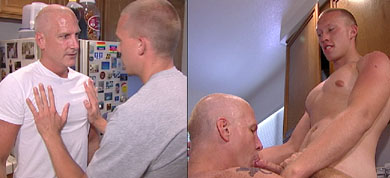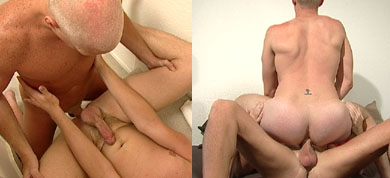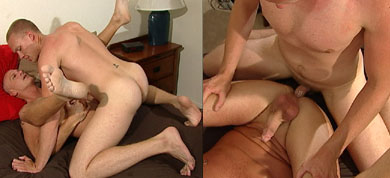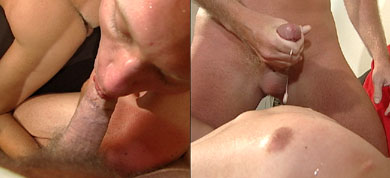 OTHER PREVIEWS
MILITARY MAN LOVE
MILITARY MAN LOVE 2
SAN DIEGO PORN BOYZ