---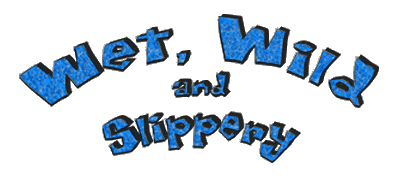 105 Minute DVD video with live action sound, plus previews & bonus footage DVD $19.95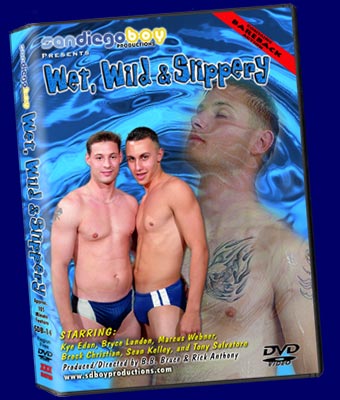 ---
This may well be the hottest video yet from San Diego Boy Productions. This one will keep you hard!
Check out Kye and Tony's flip-flopping BAREBACK action!!
KYE EDAN
Kye, a 21 year old San Diego Navy Boy who is always horny and willing. He takes his nightly trip to the apartment complex jacuzzi, in hopes to meet some young stud. Kye is all about taking risk and living on the edge. He removes his swimsuit in the open were neighbors could watch or potentially walk in, but that does not stop him. Watch his low-hanging balls as he works his stiff cock. Finding no action, he heads back to his pad were he finds comfort with his dildo. Watch his horny hungry ass swallow the entire thing, all while he jacks his dick to submission.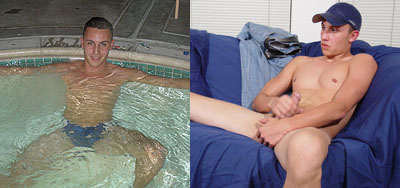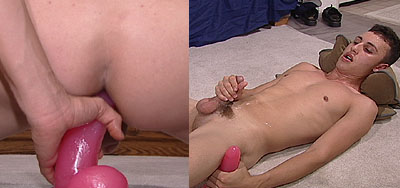 KYE EDAN & BRYCE LANDON
Kye, finally makes a catch on one of his nightly trips to the jacuzzi. After a brief introduction and time to get to know each other, Kye waste no time to invite Bryce back to his place for a drink. In the kitchen, the speedo's cum off and all the playing begins. Kye's fantasy finally cums true, real meat up his hungry hole. Bryce pumps Kye in every position imaginable and can't get enough of it.. Watch Kye shoot his load while getting pounded, then positions himself to slurp Bryce's thick load. Watching these two young studs is guaranteed to get you stiff hard. A photo montage ends the scene.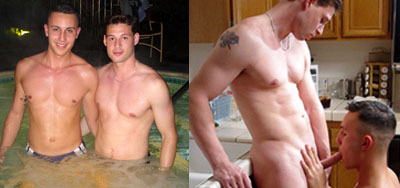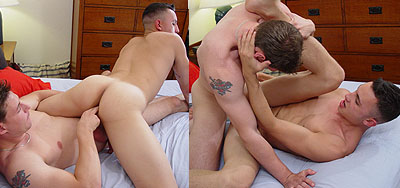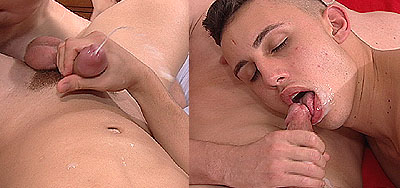 KYE EDAN & MARCUS WEBNER
What that's splashing noise? The voyeur that he is and with sex constantly on his mind Kye is curious to find out. He looks over the fence and notices hot stud Marcus floating on his pool catching some rays. Kye then gets busted for peeking over, but before you know it they are both naked in the pool. They take advantage of the moment and fuck in every part of the pool. Marcus seems to have a hungry hole and Kye just feeds it to him. A photo montage ends the scene.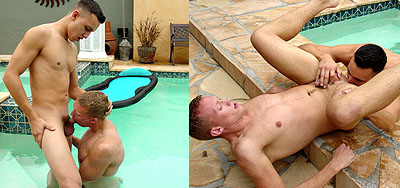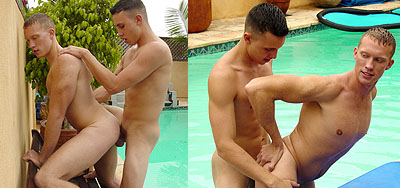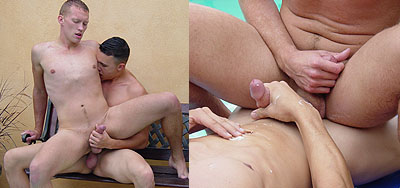 SEAN KELLEY & BROCK CHRISTIAN
Sean is staying at a local San Diego hotel for the weekend. While at the pool he meets a young, hot 20 year old Marine. He invites him back to his room were he finds out that Brock has never been with another guy. Brock decides he is willing to experience another guy. Sean is so excited, you can't fail to notice his rock hard cock. Sean takes it really slow with Brock, but Brock gets so horned-up he sits right down on Sean's cock and begins to ride it. Brock seems to enjoy his 1st fuck very well. Brock's sperm has been stored in him for days, he shoots his load like a canon. Plenty enough for everyone to get a taste of it. A photo montage ends the scene.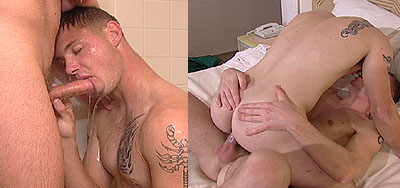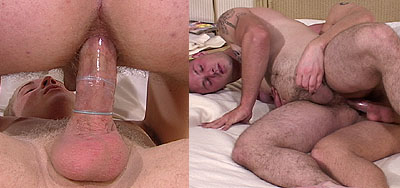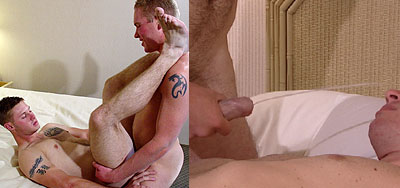 KYE EDAN & TONY SALVATORE - Bareback Action
After all of Kye's quick encounters, he has finally found his new boy toy - 21 year old Marine Tony. Kye starts this special moment with a candle lit bubble bath and a cocktail. Their passion for each other is quite evident as they both take turns fucking each other with unwrapped cocks. (This is Tony's first time fucking another guy) They take turns fucking each other bareback. While Tony is getting fucked on all fours, he notices the cameraman's thick bulge. He reaches over for it, pulls out his thick cock and starts sucking and slurping. Horny as he is, he backs his hungry hole into the cameraman's cock for more bareback action. The cameraman shoots his load as he smears it all over his ass. Kye and Tony continue to fuck until they blow their loads. A photo montage ends the scene.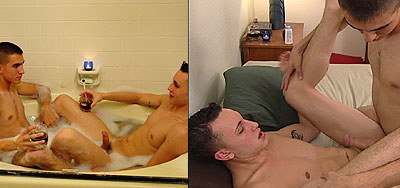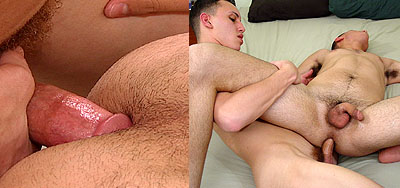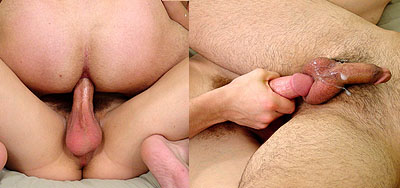 PREVIEW TRAILERS
MILITARY HAND MANEUVERS
CAMPUS PLAYERS
MILITARY MAN LOVE
DVD ONLY BONUS VIDEO
INCLUDES DELETED SCENES FROM WET, WILD & SLIPPERY.
---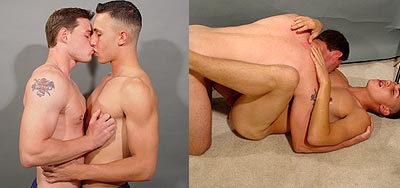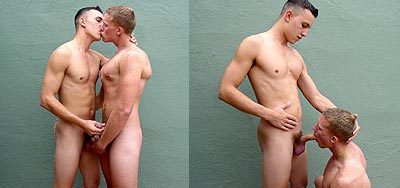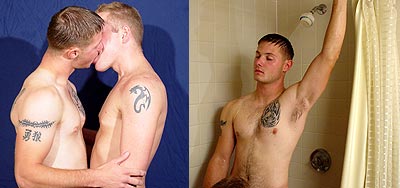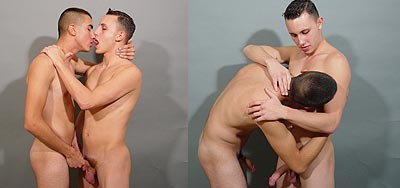 ---
DVD $19.95
Reviewed by: Dickie Dillspank (Courtesy of www.radvideo.com)
I'm not the only one who thinks this boy is a god: Bryce Landon really thinks so, too. From the first time he lays eyes on Edan in scene one, Landon (who's certainly no slacker in the looks department) is plainly more than ready to give him whatever he wants, which amounts to (in quick succession) a makeout moment, a magnificent blowjob, an moan-inducing ass fingering, and a merciless fucking (with both boys hard throughout) that ends with an orgasm that literally makes Edan fall off of the bed. And I won't even go into Edan's mid-fuck taunt: "Is that all you got, bitch?"
If this isn't enough to make you get this video right now, then the remaining three scenes, two of which feature Edan (there's barebacking here, folks), are sure to make you the owner of "Wet, Wild & Slippery." Again and again this video proves the time-honored maxim of all good adult entertainment: simply put together people who are really into one another, sit back with plenty of film, and let the good times roll. Of course, it helps that Edan is desirable by any yardstick, and this desirability makes him the perfect partner in pretty much every scene we get to see. The only pairing that doesn't involve Edan features instead two humpy military boys, one of whom seems so straight that it's purely amazing to watch him sit on his buddy's swollen red cock and take it all the way.
Directors B. B. Bruce and Rick Anthony have found their boy in Kye Edan, and San Diego Boy Productions has nowhere to go but up with this fellow in their stable. Do not hesitate; even if the DVD doesn't offer many extras, this video is your chance to see some of the best sex in porn today.
HOME